My name is Margaret Kasper and I have been born and bred in New Hampshire.  I'm the one woman army at Mountain Girl Clothing.
I create one of a kind up-cycled women's clothing and accessories for the one of a kind ladies out there.
The name Mountain Girl was cultivated because I grew up in New Hampshire.  When I went to school in the city at Massachusetts College of Art and Design for Fiber Arts, I felt out of place.  I was not in my true atmosphere and I longed for the Mountains of New Hampshire, thus Mountain Girl was created my last year attending MassArt.
I graduated with a Bachelors in Fine Arts (Fiber Arts) and Im also a certified Doula, although I have not had time in the past few years to keep that going.  I'd love to get back to it someday.
 "doula" definition:   The word "doula" comes from the ancient Greek meaning "a woman who serves" and is now used to refer to a trained and experienced professional who provides continuous physical, emotional and informational support to the mother before, during and just after birth; or who provides emotional and practical support."
Later the name correlated pretty well when I started to incorporate old Grateful Dead shirts and artwork in my clothing.  My father and I love collecting old and used Grateful Dead shirts together and it's something that I hold dear with him.  We love the music and  the artwork surrounding it.
Mountain Girl did not happen over night.   It took about two years for it to really get going full swing.  Right out of college I jumped full speed into Mountain Girl and did not have another job, besides babysitting and odd jobs, so I had a long time on living on Ramen and Pabst!
Two things which I still love.
I use recycled and repurposed materials to create my clothing.  It is truly a labor of love and my true passion in life.  I eat sleep and dream Mountain Girl and I hope that comes across in my work.
 It made my mom nervous, but eventually she warmed up to the idea once she saw how passionate I was AND that all my hard work was paying off.  Mountain Girl stared in a small spare room with one hand me down sewing machine (which I still love and use) a desk as a sewing table and ONE old ugly fisherman's sweater.
Almost six years, over 5,000 sales later, it has grown to a 1,500 foot studio space in an old mill building in Nashua NH with three hand me down sewing machines (not just one!) and two sergers (one of dark threads, one for light).
Mountain Girl Clothing IS my day job, my night job, my weekend job and my LIFE job…  And I love it.
♦
 The website Craft Count which tracks Etsy Sellers by Category at this time of publishing shows Mountain Girl Clothing as the top 100 sellers in the
handmade – clothing category – What an amazing accomplishment!
 Mountain Girl Clothing starts when I wake up around 7 am and feed the doggies.  I Get ready and head to the studio.  I start my music or news radio and brew a big cup of coffee.
At first, for at least the first year, I  did not have a set plan or routine – I would just go with the flow.  
That worked very well until I started getting busy in the shop.I then learned the be more efficient by planning my day and having set goals for the week.  I will literally wake up at 7 and I sew from 7:30-7 pm most days or well into the night.  I literally can't stop!
I don't use patterns so each piece is truly organic.  Although I have set ways of and processes of making pieces, I don't have a pattern to follow. That is way when I tried to go to fashion design classes it was the opposite way I organically work so needless to say, I didn't enjoy them.   I just follow the fabric, texture and prints and lets those do the talking for me.
Music inspires me, textures, smells (nag champa in the studio!) and wandering the halls and isles of thrift stores for sure.  Its my heaven on earth.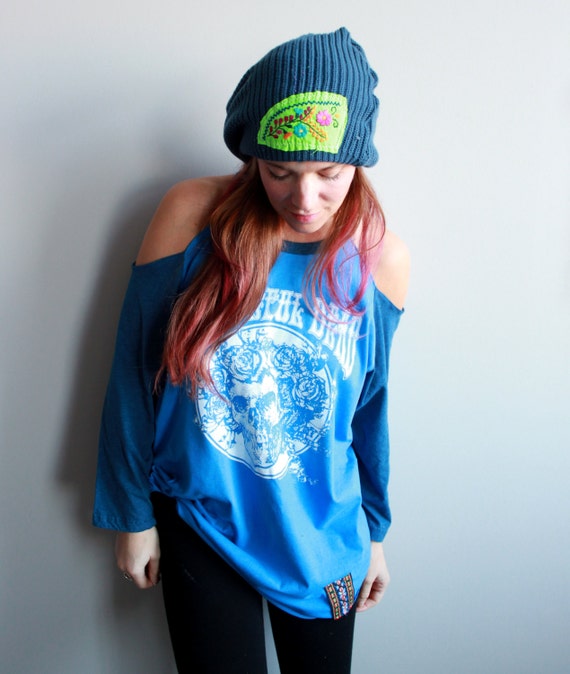 My favorite piece I've ever made was a sweater a few years back. It had a gorgeous crochet appliqué on the back, big bell sleeves and a huge comfy hood. Very colorful.  It is hard to let go of some of my creations but that I guess it's just a reflection of life.  You have to let things go in order to keep moving forward.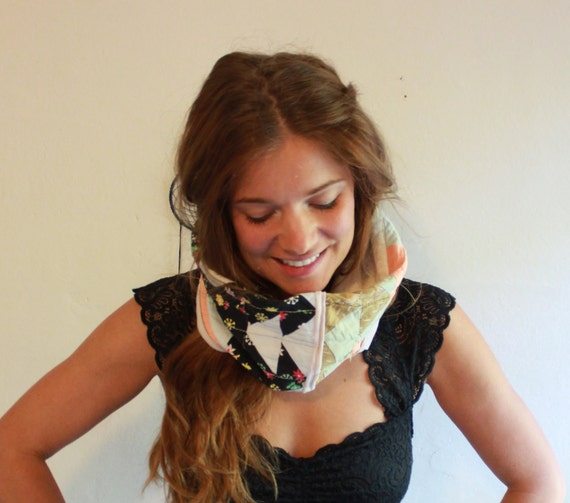 When things are slow and money is tight I actually work MORE.  
I find that putting more energy into my creations helps generate more sales (or maybe I am just imagining this) but it works for me and picks me up out of a rut.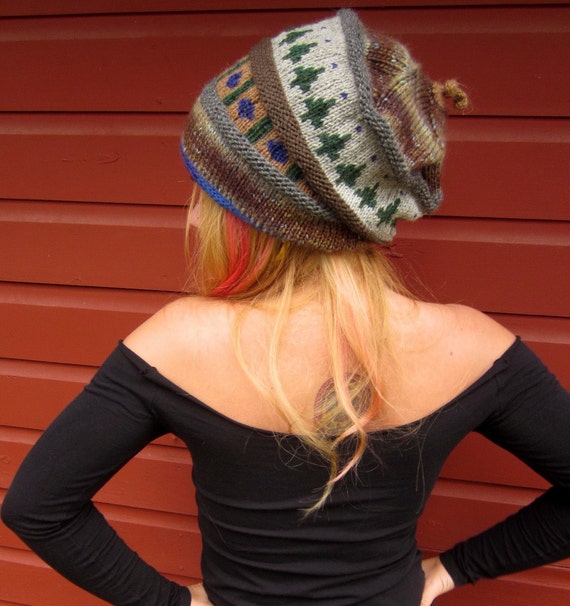 It is scary to have your own business.  
To know that you have no fall back and when things are slow there is nothing you can do but wait and work your little heart out.
In my down time I love to sit on the couch with the dogs and watch some shows and zone out.  I also love to go to my dads a few towns over and hang out with him or my brother will come up from Boston sometimes and it's always wonderful to spend time with everyone together.   Those moment are rare but I love them.
My parents were huge influences on my love of creation.  Here is a photo of my parents and their band in the 70s, they were called The Secret Sam Band.
My mom and dad are on the left in the front together
 I also love to go to shows and concerts.  I love the energy of all of the people and music lights and sounds.  You can't get that anywhere else!
  I remember the first show I ever saw, It was late spring and warm out. I went to a night concert in Boston at the Bank of America Pavilion.  It was Sigur Ros performing.  Their song Agaetis Byrjun started to play and it started to pour.  It was truly a beautiful moment and brought me to tears. A lot of hardships were going on in my life at that very moment but somehow I felt put back together after that one song.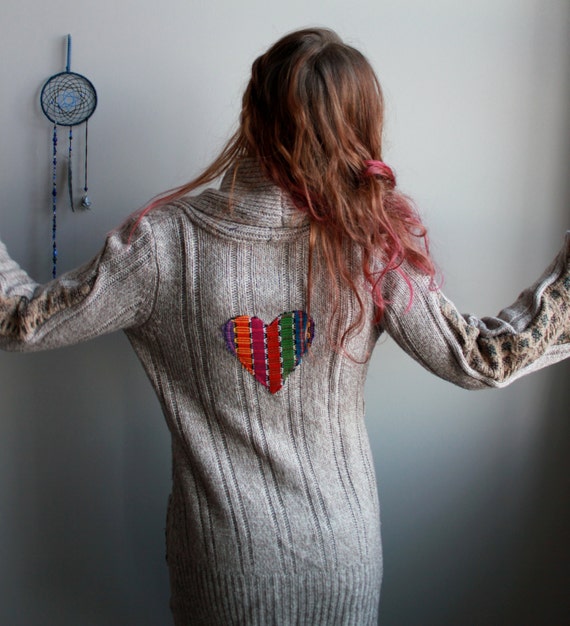 ╰☆╮
I just wanted to remind our alliance that we as artists, have an amazing blessing.
Here is how i know this to be true:
This past summer, I lost my mother to breast cancer.  She was my rock and my heart.
I was in the depths of despair and honestly still am in many ways.
But.
The one things that is helping me heal is to create, and make and make and make.
We as artists have an outlet, a born outlet to express out emotions through our artwork.
Not everyone can do this.
For that reason we are blessed.
So if you are going through hard times…sit down and create. It will help heal your heart.
╰☆╮
favorite quote:
Bette Midler — 'Give a girl the right shoes, and she can conquer the world.'
Selling Venues:
Artist Contact info:           Mountain Girl Clothing LLC, http://www.mountaingirlclothing.com, Margaret Kasper, MountainGirlClothing@gmail.com
Social Media Links:           http://www.instagram.com/mountaingirlclothing  www.facebook.com/mountaingirclothing Twitter: mntngirletsy
Margaret, Thank you for sharing your world and for being a leader of the deadhead art alliance.
She has been an inspiring artist to me from the first time I looked at her store,  I had just started the team, and asked her to be a leader because I could feel her kind musically inspired vibe radiating with the love of our Grateful Dead inspired community, and am happy that I did.