I am andee, also known as shymama, shy for short.  My shop's name is shy's No Knots (it's a play on words) and I am currently living in Hazelwood, MO, which is in North County (NoCo), St Louis. (I am from Glasgow Village, a little known spot of North County in the Riverview School District.)  I am the only artisan at my shop, and I craft jewelry with glass and gemstone beads.  My boyfriend, Catfish, helps out with PR and advertising my work.  He loves wearing my jewelry and will wear different things at any given time to help with promotions.

What is my creative process? – hit the breaks!  Wait, there is a such thing as a "process?" LOL. I'm not sure if I can call any of what I do a legit "process." A lot of times I will see something with nice colours and think, "oh that'd be a nice colour scheme for a bracelet/necklace/etc." Sometimes, I will be playing around with my gemstones, and get an idea for a pattern. Other times, I will envision different things in my head, then draw a simple design on paper, and work from a template like that.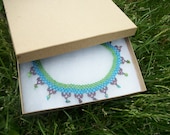 I work wherever I feel like chillin' at that day.  Disorganized, I know.  I do have several cases of beads that I keep very organized; I just like to be able to take my actual work from one room to another, and if the weather is nice, then outdoors, too.  I use mostly glass beads; glass seed beads, pressed glass, and gemstone, mainly. I like the weight of glass, the sparkle, shimmer, and shine. Same for the gemstones. I typically don't use clasps; the strings are woven tightly into the design, looped strategically through certain end beads to help cinch everything into place. I discovered a super-strong string called "Dandyline" several years ago, and have stuck with that for all of my woven, and some of my strung designs. For bracelets and anklets, I used string called "Stretch Magic." It's really strong stretchy string that rarely breaks.
I don't have a day job, per se, however I am a full time mom and full time student. I have a knack for jewelry design and creation, so I figured might as well put my talent to good use, and perhaps make a few bucks on the side. I have 3 kids, a boy and two girls, ages 13, 11, and 8.  They are named Aspen (like the quaking Aspen trees), Amethyst (like the gemstone), and Althea (like the genus of flowering shrub.)
I am currently studying American Sign Language at St Louis Community College (the Flo valley Campus, in North County) one of two in this area that offer this degree program (the other one, SWIC, is about 30 – 45 miles away on the Illinois Side; the other one in Missouri is about 3 hours away from here); my goal is to become an interpreter. I recently received my Certificate of Specialization (CS) in DCS (Deaf Communication Studies), ASL; I have 2 years left in the program (it's a "one plus 2 year" program.) My dream is to become a "performance interpreter," signing for music shows, plays, and musicals. (Fun Fact: my ASL Semantics instructor "terped" for Bob Weir and Rat Dog when they came through St Louis last spring, 2014.)
Uncle John's Band Interpreted by Sign Language

There isn't anything I can particularly pinpoint as far inspiring me in my youth, but I do remember when I was about 11 years old, in 6th grade, I asked for beads and string for Christmas. I had recently been at a friend's house and saw a loom with seed beads on it, and thought, "hm, I might like trying that." (Although I didn't try a loom until I was in my early 20's.) Beading was something I went back and forth to; I would be really into to it for a few months, then get bored and work on model cars.
When I was in my early 20's, shortly after my son was born, I thought it'd be worth getting some supplies and messing around with learning new things.  After my middle daughter was born, I put (what seemed like at the time) a lot of money into high grade beads, not purchased from a craft store chain, but from an actual bead supplier.
I took a trip to my ex husband's hometown of Eugene, OR, and while visiting some of the shops, It was suggested that I stop in at a large beading supply retailer.  I forget the name of the store, but I'm pretty sure it was in either Bend, or Grant's Pass. (Those were two cities I remember visiting. We also were in Corvallis, but I know it wasn't there.) I bought some amazing beads and later learned to make stitched designs.  After a few years of off and on work, I finally opened a shop on Etsy.com and here I am now.
My boyfriend and I just recently vended for my very first time ever this previous spring at MoRoots Music Festival. It was the first time for this new festie, which made it even more fun for my virgin-vending experience. That happened the weekend of April 25-26.
I think right now my favorite piece in my store is the Rosemary's Garden Inspired collar necklace. It's one of the leaf stitch pieces that I like to do, but probably my best one, yet. The colours are beautifully contrasting, and it's my first collar that I incorporated with gemstone beads. Here is the link for it: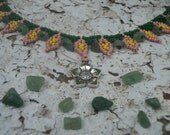 https://www.etsy.com/listing/196847310/rosemarys-garden-insprired-pink-and?ref=shop_home_active_8
What inspires me?  Well, music, of course. I listen to an array of genres, and I listen to many different things as I am creating. I get ideas for colour schemes from nature, usually. I will see a flower or a sunset, or geodes or rock formations, and I will think about how pretty those colours would be in a bracelet or necklace. Sometimes, I just pull out my gemstone beads and "play" with them by swirling my finger through them, or letting handfuls drop through my fingers, and decide what to make based on my intuition.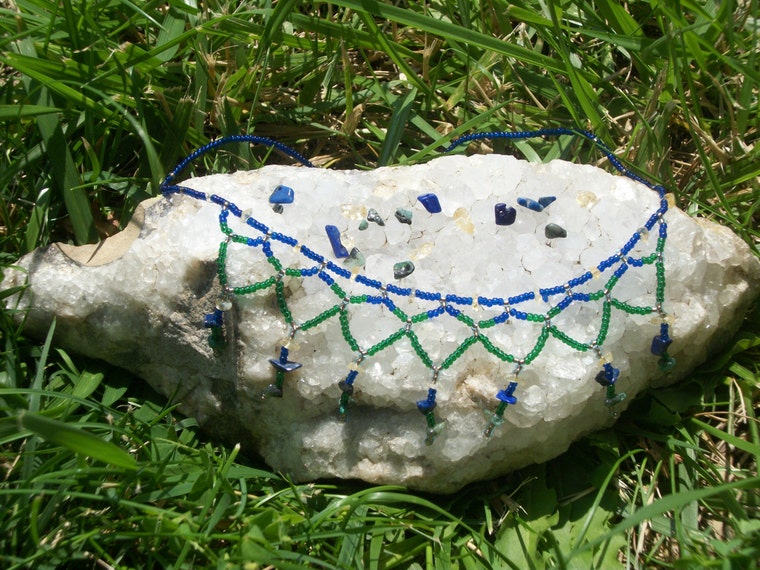 What makes my job interesting is that I love seeing the many colours and types of beads and gemstones. This year was my first time vending at a festival (MoRoots Music Festival in Missouri; it's brand new and it was its first year.); I know that future festivals will be really fun and super interesting. It's definitely much different from being a regular festie goer.
I have very little down time with 3 kids and being a full time ASL major, there isn't much of that. I do like to go to music shows when I can. I like nature and hiking and walking and all of that. Video games, if I had more time for them (I love me some RPGs); I pretty much study and practice ASL when I have free time. I like to sign to the music.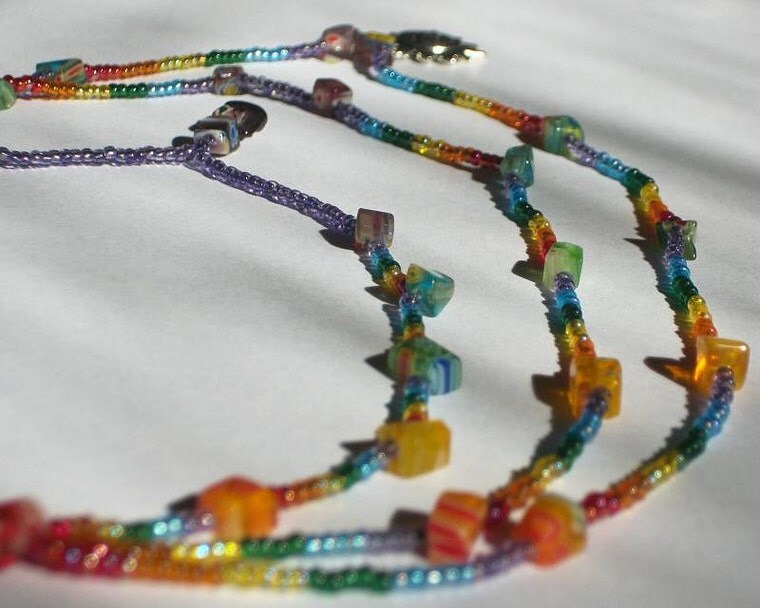 I have so many favourite quotes it's really hard to choose one, so I'm gonna go with a good passage from the Bible.  It's positive and uplifting, and jus' kinda beautiful to me. Hippie-ness.
Isaiah 55:6-13
6 Seek the Lord while he may be found;
    call on him while he is near.
7 Let the wicked forsake their ways
    and the unrighteous their thoughts.
Let them turn to the Lord, and he will have mercy on them,
    and to our God, for he will freely pardon.
8 "For my thoughts are not your thoughts,
    neither are your ways my ways,"
declares the Lord.
9 "As the heavens are higher than the earth,
    so are my ways higher than your ways
    and my thoughts than your thoughts.
10 As the rain and the snow
    come down from heaven,
and do not return to it
    without watering the earth
and making it bud and flourish,
    so that it yields seed for the sower and bread for the eater,
11 so is my word that goes out from my mouth:
    It will not return to me empty,
but will accomplish what I desire
    and achieve the purpose for which I sent it.
12 You will go out in joy
    and be led forth in peace;
the mountains and hills
    will burst into song before you,
and all the trees of the field
    will clap their hands.
13 Instead of the thorn bush will grow the juniper,
    and instead of briers the myrtle will grow.
 This will be for the Lord's renown,
    for an everlasting sign,
    that will endure forever."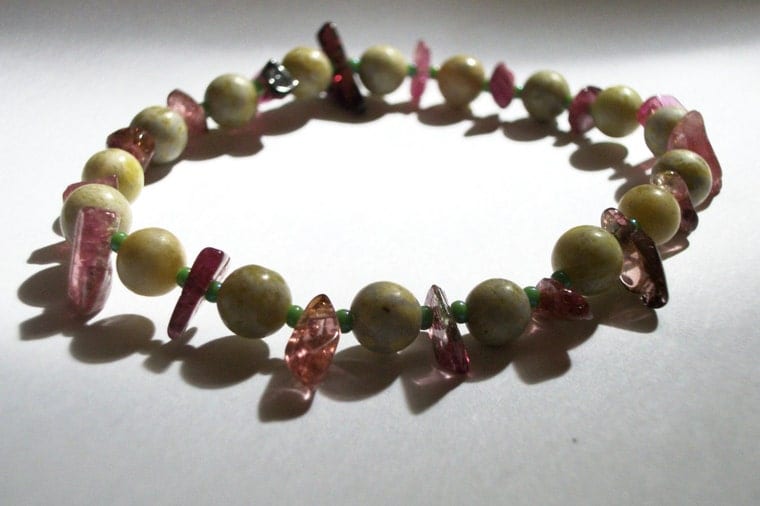 Hooo. There are so many good music memories…well, I love love love Madahoochi. I groupie'd out on them and "made friends" with the band. It's super neat-oh to be greeted by first name and with a grin and a hug from the band mates when I see them. The first time I met one of the band mates was at Schwagstock; my ex-boyfriend, Matt, and I were walking down the road in the early afternoon, shortly after waking up. We had missed Madahoochi playing the night before (would have been my first time seeing them live) and I was kinda bummed out about it. A dude sitting on the side of the dirt road in front of a parked car said hello to us. We said hi back and Matt asked, "do you think Madahoochi is gonna be playing anymore?" and the dude said, "no, they pretty much spent their load…" (Note that he said, "They.") He asked, "You didn't get to see them?" (Note he said, "Them.") Matt answered with some negation like, "nuh-uh," or something of the sort.
I stamped my foot, I literally stamped my foot and said, "Yeah, um, they were supposed to play dawn and they didn't!"
We walked away after a bit of chatting and me making a fool of myself; Matt decided then was a good time to tell me that it was the drummer of Madahoochi. I was like, "Take me back to meet him!" He laughed and said how could he take me back to meet him after we'd already talked for 20 minutes. I told him I didn't know, but who cares.
We went back to "meet" him, even though I already had a conversation with him. He found this amusing; it was the story I told him when I finally did get to see them play; I asked, "do you remember from Schwagstock?" and he looked at funny like, um, yeah, be more specific. I said, "Let me tell you how we met!" and told him that story. The look of recognition and a smile-holding-back-a-chuckle was pretty amusing to watch….I just; went to 2 shows of theirs over the weekend (Sept 12 and 13) and I asked for a set list and the let me grab one off the stage. I still jump with joy on the inside when they say hi with hugs to me, like a total groupie. 😀
I hope to go to more festivals next season, and further on after that. It would be really cool to have my name out there and be "underground famous" like a few artists, hoop/poi dancers, crafters, musicians, etc. around this area of the country; while I'm being out there vending, I would like to advocate for Deaf Culture and ASL. A lot of festie heads seemed interested in sign language when I talk about it, which is frequently. It's my passion, and even more so now that I know there is a market for performance interpreting.
Selling Venues and contact info.
Facebook page  https://www.facebook.com/ShysNoKnots
Etsy shop           https://www.etsy.com/shop/ShysNoKnots
Email                  shysnoknots@yahoo.com